One of my favorite poems ever.
Dennis Brutus spoke at my college the first year I was there. We printed this poem in a student magazine that I helped publish.
A vocal opponent of apartheid in South Africa, Brutus was banned from speaking, teaching or gathering with more than two people outside his family. In 1960 he faced arrest and fled the country. He was arrested in Mozambique and then, during an escape attempt, was shot in the back.
Brutus was sent to Robbin Island, where he spent 18 months in prison in the cell next to Nelson Mandela.
I especially love the strength of the words that end each line. They are almost a poem unto themselves
SOMEHOW WE SURVIVE
                    by Dennis Brutus


Somehow we survive
and tenderness, frustrated, does not wither.
Investigating searchlights rake
our naked unprotected contours;
over our heads the monolithic decalogue
of fascist prohibition glowers
and teeters for a catastrophic fall;
boots club the peeling door.
But somehow we survive
severance, deprivation, loss.
Patrols uncoil along the asphalt dark
hissing their menace to our lives,
most cruel, all our land is scarred with terror,
rendered unlovely and unloveable;
sundered are we and all our passionate surrender
but somehow tenderness survives.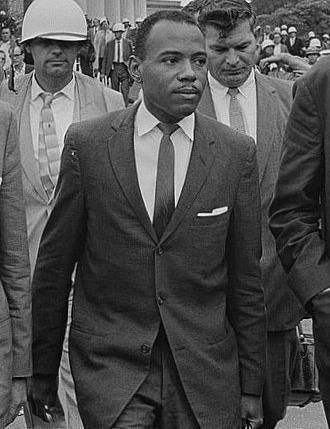 "Nobody handpicked me…I believed, and believe now, that I have a Divine Responsibility…"
Civil rights legend James Meredith turns 79 years old today.
His life story is incredible. In 1962, he embarked on a difficult journey to become the first African-American to enroll at the University of Mississippi.
Many people face financial, social, familial and other roadblocks to higher education. For James Meredith to attend college, it took over 120 U.S. marshals and Deputy Attorney General Nicholas Katzenbach to force the college to admit him.
The ensuing night-long riot resulted in two deaths, 175 injuries, and 212 arrests. The day he arrived on campus, cars and TV trucks were overturned and set on fire. Ugly crowds taunted Meredith. The night resounded with the sound of gunshots. Tear gas made the air bitter. All this for one man (who had already served nine years in the US Air Force) to pay his own tuition and attend school.

"The US government fined [Mississippi Governor] Barnett $10,000 and sentenced him to jail for contempt, but the charges were later dismissed by the 5th Circuit Court of Appeals." (Wikipedia)

In 1966, Meredith was now enrolled in law school at Columbia. That summer, he embarked on a 220-mile march through the South to bring attention to African-American voter registration. Carrying a Bible and a walking stick, he made it from Memphis to a few miles into Mississippi—when he was shot by a white supremacist. After recovering from wounds in a hospital, Meredith refused to give in to fear and returned to finish the trek to Jackson.
photo of James Meredith courtesy Wikipedia

The WPA preserved this astounding interview with John Wesley Dobbs, a tireless advocate of African-Americans and equality. Also remarkable: his grandson, Maynard Jackson, became Atlanta's first black mayor and is the namesake of the Atlanta airport.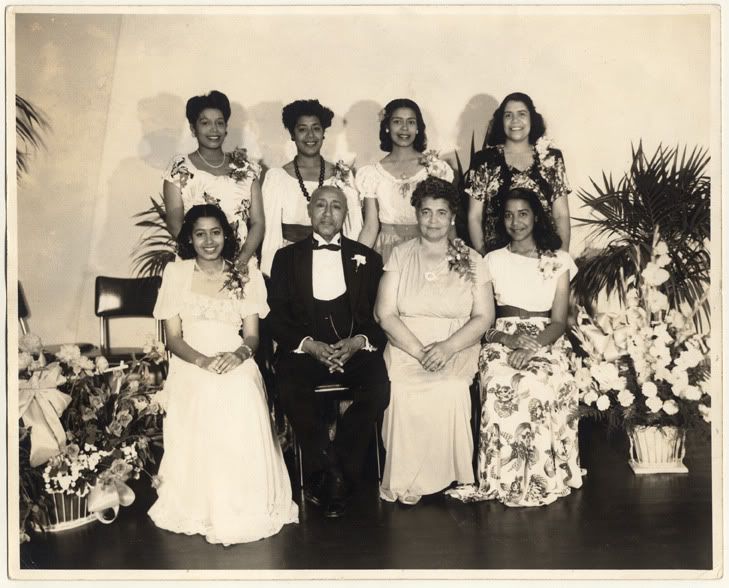 1946 Family Photo, from Amistad Research Center collection
Dobbs, like many of his generation, had a difficult life. His mother's work was in a distant city, so he was raised by grandparents and extended family. At twelve, he had to start working as a paper boy to buy shoes and clothes to attend school.
The lucky "break" (his words) came when a pastor paid for his first year of college at Atlanta Baptist College. Despite having to drop out to care for his mother, Dobbs persevered. He studied on his own and passed the civil service exam. He got married in 1906 to "Miss Irene Ophelia Thompson, a native of Columbus, Mississippi." He found a great job and raised six daughters who all went to college. Never one to sit back and relax, John Wesley Dobbs devoted his later life to voter registration and public speaking. He was invited to help in the re-election campaign of Franklin D. Roosevelt in 1936.
John Wesley Dobbs is a fascinating. One of his daughters was the first person to integrate the Atlanta Public Library. Mattiwilda, his fifth-born, was one of the first African-Americans to perform with the Metropolitan Opera Company. His grandson grew up to become mayor of Atlanta.
In case you didn't see this in the Tacoma News Tribune, here's my first Reader Columnist article, from February 20, 2012.
Differences That Were Once Scorned Are Now Admired
MARIA GUDAITIS; CONTRIBUTING WRITER
When you attend Korean church, but don't speak Korean, strange and comical misunderstandings can happen.
A friend (half-Korean like myself) once asked about a new group called the "Young Others." What an odd name! Many younger members are half-Korean, but still. Ouch.
My mom shook her head with scorn. "It's the Young Adults group!" Oh. A mispronunciation by the pastor, not an exclusionary title.
I've often thought about that mythical group, the Young Others. My mom is Korean and my dad is Lithuanian, so I'm of mixed ethnicity. Many times I've checked that box on forms: Other.
It's not just job applications or achievement tests that lack a category for ambiguity. In Korea, biracial kids are often viewed as mongrels and mistakes. Half-Asians aren't potential Benetton models or sports stars. We're abandoned to orphanages and taunted on playgrounds.
Mainstream American culture didn't give me a pass because people in the "motherland" might despise me. I look Asian. I've felt the sting of insults and prejudice on school buses, at work and on city streets. (No, my family doesn't eat dog, cat…or giraffe!)
Wherever I go, am I doomed to be the Other?
For all the pain of growing up different, I wish I spoke more Korean. I wish I understood more about my heritage. Like many Asians during the 1970's, my Mom pushed us to assimilate. Success could only come as true Americans. So along with math homework during summer and frequent museum trips, she spoke exclusively English to us. Dinner was hamburgers, tuna casserole or mashed potatoes with gravy. It wasn't often we got to taste spicy denjang chigae soup or mixed rice bowl bibimbap.
These days, Asian youngsters have weekend language schools and summer camps. Church kids tell me they speak Korean in school and bring kimchi and kimbap for lunch. Different isn't weird—it's cool. Some of their friends love Korean pop stars and wish they were Asian. How times have changed!
I don't feel sorry that I was a Young Other. Having two ethnic backgrounds trained me in the art of good communication. I'm thankful for the richness of Korean culture. It's a lacquer and mother-of-pearl fretwork that adorned my inner life with tigers, gold coins, pear blossoms…and math homework books.
With time, I've come to realize I really wasn't alone. All of us are "Young Others" to a degree. We've all felt that gap between who we are, and how outsiders see us.
Some of you are single parents. Some came back from deployment with physical or spiritual damage. You might be a late bloomer, domestic violence survivor or child of an alcoholic parent. Teased in school. Lost your business or a marriage. Many of you reading this are among the millions of unemployed Americans—and both food pantry and inner strength are getting depleted.
Your words can sound like a foreign language. (Parents of teenagers, you know exactly what I'm talking about.) The heartache and burdens of your life are as far away and strange as the fish markets of Busan were to me growing up in the U.S.
Take heart! We can overcome. I now flaunt my Korean-Lithuanian heritage! I no longer shirk from kimchi or sauerkraut. My friends love my exotic cooking. They love my Dad's stories from the old country. They beg me to tutor their kids in math!
Our damage and differences—the ways we are unusual, despised or weird—these very things are essential for who were are. Celebrate your otherness. In fact, there's a great word for it: extraordinary.
By the way, I'm secretary of the Young Others group now. We meet 7 days a week, 24 hours a day, in locations all around the globe. No membership dues required. The food is really good. The company is encouraging. And everyone is welcome.
______
Maria Gudaitis, a writer and designer, is one of six reader columnists whose work appears on this page. Reach her through her blog at mariagudaitis.com, where she writes about food, poetry and local events.
[Editorial note: I used to link to these essays on the News Tribune site, but now that my term as a reader columnist is over, and some links may end up broken, I'm posting the full article here on my blog.]
Between Shades of Gray is a young adult novel by Ruta Sepetys. It's the first Lithuanian novel I've ever read. Online reviews convinced me to reserve it at the Pierce County Library System.
Lina is fifteen. World War II has ended. Her family luxuriates in the comfort of an intellectual, urban life in Kaunas. But there are hints of danger. One night, they're awaken by the Soviet secret police and deported from Lithuania as criminals.
At the train depot, the Vilkas family and hundreds of other intellectual and political prisoners are loaded onto boxcars and sent away without trial, to an unknown destinations.
Lina's family struggles to find food, shelter and rest. They lend aid to, and are in turn bolstered by, kind strangers. The cruelty of other deportees and guards is shocking.
Lina refuses to give up her beloved art. She uses paper and tools she smuggled into her suitcase. Later, it's sticks, ashes, pieces of wood and stolen supplies. The narrative touches on artists and works of literature, hinting how the interior life of imagination helps to process pain. Art (and this book itself, a work of testamentary fiction) bears witness to atrocity. In making sense, maybe even making beauty out of suffering, artists and writers hope to spare others. And if not spare—at least assuage scars.
The sketches must remain hidden in books, suitcases or under floors. Still, Lina is desperate to capture faces, landscapes, horrors. It is the desperation of all people with stolen voices. Lina fights back by secretly remembering, by remaining creative, by resisting her captors. It feels like her only other option is to become a ghost, or a monster.
The robust characters and plot of this novel are not pure imagination. Lithuanian-American Sepetys wrote in part from her family's memories. She also traveled to Lithuania to speak with forced deportation survivors. Some, like Lina, kept diaries or painted images that were hidden for decades in Soviet-occupied Lithuania.
This story of a post-war Baltic girl isn't something most Americans are accustomed to. Perhaps it doesn't deserve a 1500-word review. (Shrug.) Even I didn't know that 700 years ago, Lithuania was the largest country in Europe. It was the last European country to convert to Christianity…and the first republic (in 1991) to declare independence from the Soviet Union. Lithuanian is one of the two surviving most intact (conserving features of the original)  Indo-European languages in Europe.
…[it] is the most archaic among all the Indo-European languages spoken today, and as a result it is very useful, indeed, indispensable in the study of Indo-European linguistics. (Antanas Klimas, "English and Lithuanian: Two Candidates for the International Languages," The English Record, XIV, April 4, 1969, 62)
My Dad, the original Gudaitis of the Gooditis blog, was born in Lithuania just before the war. He was a man without a country for almost thirty years. The beautiful land of his birth, Lina's homeland, was swallowed up by the Soviets in 1944. He couldn't get a Lithuanian passport, because there was no Lithuania. His family lived as refugees in Germany, but could not become citizens. Nor could they obtain citizenship at first when they immigrated to Chicago in 1951. They lost a farm, a father and everything familiar. He had no little green booklet that stamped him as a native son, until years later when he received U.S. citizenship (when I was in elementary school).
Having a rough day? Do there appear to be roadblocks along your path? It's impossible to read this story and not feel motivated…plus a little more grateful.
Tererai was born in a village in rural Zimbabwe, probably sometime in 1965, and attended elementary school for less than one year. Her father married her off when she was about 11 to a man who beat her regularly. She seemed destined to be one more squandered African asset.

A dozen years passed. Jo Luck, the head of an aid group called Heifer International, passed through the village and told the women there that they should stand up, nurture dreams, change their lives.

Inspired, Tererai scribbled down four absurd goals based on accomplishments she had vaguely heard of among famous Africans. She wrote that she wanted to study abroad, and to earn a B.A., a master's and a doctorate.
[Note added 03/30/2012: Take five minutes to read this Op-Ed piece by Nicholas Kristof. There's nothing else you can be doing right now that's going to change your worldview as radically as the story of former child bride and cattle herder, Tererai Trent.]
UW professor and previous Guggenheim Fellowship winner Heather McHugh is one of 24 winners of the 2009 $500,000 MacArthur Foundation grant. She attended Harvard at 16 and had her first poem published in the New Yorker at age 18. Below is one of her poems, which are characterized by a lyrical but unpretentious style.

WHAT HE THOUGHT

We were supposed to do a job in Italy
and, full of our feeling for ourselves (our sense
of being Poets from America) we went
from Rome to Fano, met
the Mayor, mulled a couple
matters over. "What does this
'flat drink?' mean?" somebody asked. "What means
'cheap date'?" (Nothing we then said
could lessen that last mystery). Among Italian writers

we could recognize our counterparts: the academic,
the apologist, the arrogant, the amorous,
the brazen and the glib. And there was one administrator
The Conservative), in suit of regulation gray, who
like a good tour guide, with measured pace and
uninflected tone, narrated sights and histories
the hired van hauled us past.
Of all he was most politic—
and least poetic— so it seemed.
Our last few days in Rome I found
a book of poems this unprepossessing one had written:
it was there in the pensione room (a room he'd recommended)
where it must have been abandoned by
the German visitor (was there a bus of them?) to whom
he had inscribed and dated it a month before. I couldn't
read Italian either, so I put the book
back in the wardrobe's dark. We last Americans

were due to leave
tomorrow. For our parting evening then
our host chose something in a family restaurant,
and there we sat and chatted, sat and chewed, till,
sensible it was our last big chance to be Poetic, make
our mark, one of us asked

"What's poetry?
Is it the fruits and vegetables
and marketplace at Campo dei Fiori

or the statue there?" Because I was
the glib one, I identified the answer
instantly, I didn't have to think— "The truth
is both, it's both!" I blurted out. But that
was easy. That was easiest
to say. What followed taught me something
about difficulty,

for our underestimated host spoke out
all of a sudden, with a rising passion, and he said:

The statue represents
Giordano Bruno, brought
to be burned in the public square
because of his offense against authority, which was to say
the Church. His crime was his belief
the universe does not revolve around
the human being: God is no
fixed point or central government
but rather is poured in waves, through
all things: all things
move. "If God is not the soul itself,
he is the soul OF THE SOUL of the world." Such was
his heresy. The day they brought him forth to die

they feared he might incite the crowd (the man
was famous for his eloquence). And so his captors
placed upon his face
an iron mask
in which he could not speak.

That is how they burned him.
That is how he died,
without a word,
in front of everyone. And poetry—

(we'd all put down our forks by now, to listen to
the man in gray; he went on softly)— poetry

is what he thought, but did not say.

______

More about Heather and her poems are available here at her site: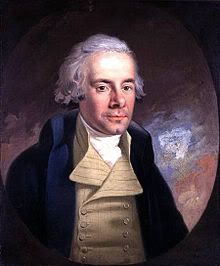 by Karl Anton Hickel, c. 1794

Happy 250th birthday to one of my heroes, William Wilberforce. His life is a call to action. "…Wilberforce—dubbed 'the prime minister of a cabinet of philanthropists'—was at one time active in support of 69 philanthropic causes. He gave away one-quarter of his annual income to the poor. He fought on behalf of chimney sweeps, single mothers, Sunday schools, orphans, and juvenile delinquents…"
BBC's Historic Figures page on William Wilberforce
In 1780, Wilberforce became member of parliament for Hull, later representing Yorkshire. His dissolute lifestyle changed completely when he became an evangelical Christian, and in 1790 joined a leading group known as the Clapham Sect. His Christian faith prompted him to become interested in social reform, particularly the improvement of factory conditions in Britain.
To distribute material things divides them. To distribute spiritual things multiplies them.