A Guide to Visiting LeMay — America's Car Museum in Tacoma
Four floors covering over a century of innovation—a little advance planning will make your visit go smoother.
Main exhibition space, viewed from the Mezzanine
INTRODUCTION TO THE LEMAY — AMERICA'S CAR MUSEUM
The LeMay Car Museum—located in Tacoma, Washington about 30 minutes south of Seattle—is simply a stunning showcase of artistry, marvelous machines and man's fascination with technology.

I'm not a car fan per se, but I love design, gadgets and art. My Dad, the car enthusiast, was thrilled beyond expectation with his Father's Day visit.  

It's truly a museum for all ages and interests.

From early models with wooden wheels to huge touring cars for the wealthy to strange innovations (the Tucker, century-old electric and steam vehicles), souped up racing cars and modern beauties—you can see these all, strolling at a leisurely pace to take in one of the world's largest and most significant collections.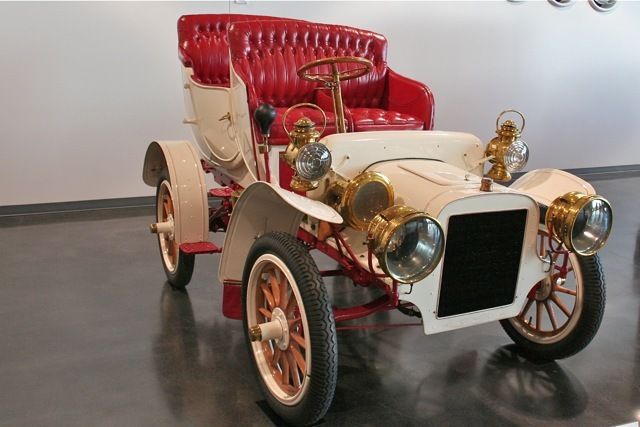 1906 Cadillac. Note the wood wheel spokes and beautiful red leather upholstery
We arrived early and planned on doing two hours. We ended up getting lost in reminiscing and admiring details and history. Two hours is the minimum…four hours if you have a car buff in your group. (If you do the longer visit, I recommend you take a 20-minute lunch break to "refuel").

Why build—or visit—a car museum? The short video in the LeMay Car Museum theater addresses this question. No other tool or machine defines American culture more than the automobile. The comprehensive scope of this museum allows you to observe cars from the early 1900's (basically rudimentary wagons without windshields, often with kerosene lanterns and cruising speeds of up to 10 m.p.h.). As the years went by, you notice things like spare tires, electric headlamps, horns and radios coming into designs.

The 20's and 30's became an era of cars for the everyday person alongside luxury coupes. Whether for the Rockerfellers or the Joneses, there are family sedans big enough to include grandparents and all the kids.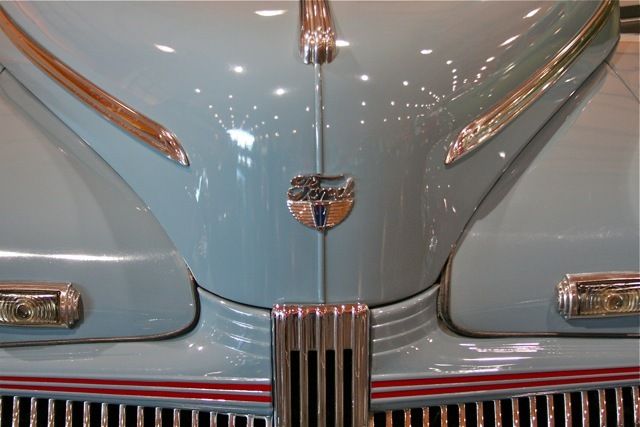 1942 Ford Deluxe  produced during the austere WWII years
The practical era of the Great Depression and WWII followed. Then the golden age of the car, the post-WWII boom, roars in with radical new designs, luscious paint, aerodynamic curves and tail fins. Finally, there are performance vehicles and significant models from contemporary times: high-end Ferraris, race cars, the latest electric models and the growling muscle cars of the 1970's.
TIPS FOR VISITING AMERICA'S CAR MUSEUM
PARKING
Arrive early for parking. The lot is not huge. If it's full, you can park down closer to Freighthouse Square and walk up to the museum (drop off your passengers at the door first!).
It costs $5 to park (up to 3 hours / $10 for up to 6 hours). Get the stall number! You can pay inside (may be quicker than waiting at the kiosk). Machine does not make change, so bring small bills, use your card or pay inside.
If you have a stroller or wheelchair, park in the stalls away from the museum…there is a ramp near the handicap spaces. A small stairwell near the payment kiosk leads from that section and it's not accessible.
Photos courtesy the LeMay Museum. Image by David Imanaka

HAVING A MORE PLEASANT VISIT
Admission is $14. There are discounts for seniors, military, students, children, etc. Museum page on admissions and discounts
If you're not getting a discount (AAA, State Farm, etc.), you can purchase tickets ahead on the website. (You'll still need to stand in line to pay for parking though.)
Wear good walking shoes. It's four floors of cars.
If you can go on a weekday, I high recommend it. We went on a Tuesday. It was busy but not bad. Weekends and holidays can be very packed. (Do not expect to find nearby parking at noon on a Saturday!)
Go early. It was almost empty at 10 am. By noon, the parking lot was full—even on a weekday.
The Lemay site has tons of great info how to get there, what special exhibits are currently showing, upcoming car club shows, the history of cars and the passion of car collectors. 
BRINGING CHILDREN
One of the thrills of the museum is to pay close attention to details like early speedometers, brakes and headlamps. I can't imagine this would be enjoyable with toddlers who have seen one too many shiny objects they can't touch. It might be awkward to navigate crowds with a stroller on a busy day. (Parents of little ones, you have my admiration.)
For elementary-age kids, there's a lot to see. Have that little talk about staying behind ropes and keeping hands off vehicles beforehand—with all the cool gadgets, it's extremely tempting even for adults.
If you home-school (or just want to add some learning/excitement), the LeMay Museum offers some cool resources for kids at their Education page.
Kids or teens will enjoy having their own camera which may help them interact better with the details and eras of the collection.
A break upstairs in the cafe is essential. There's juice, chips and kids' meals to restore their energies. The theater is also a great place to sit for a few minutes.
The race car simulator ($8) and slot car track ($3) did look fun for kids (and adults). We didn't try them out. They cost extra, but if you brought your brood, I think this would be a must.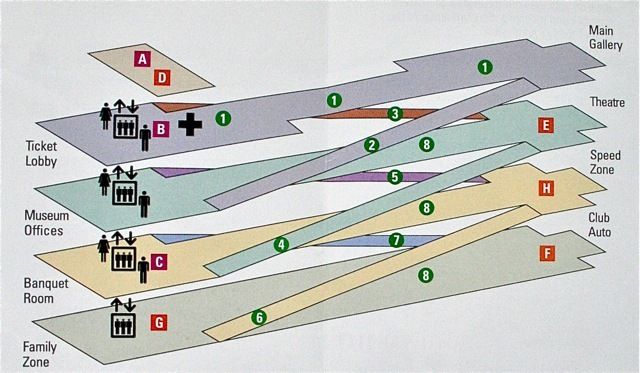 Map of the LeMay Museum interior. Click here for a larger image.
FINDING YOUR WAY AROUND THE MUSEUM
The Museum is set up with central space on each floor. Ramps on each side hold special exhibits and collections.
The Purple level (1) is the Harold E. LeMay Collection, the main exhibit space.
Below are three floors of Collection Galleries (blue, yellow and green). Since these look the same (concrete floors with columns), don't miss anything by thinking you already saw those spaces!
There are six side galleries on the ramps that slowly lead down to each level. These show exhibits such as British Invasion, Indy 500 Racing, Ferrari in America. We managed this by visiting the right side galleries on the way down (2, 4, 6), then starting again at the top and visiting the left side galleries (3, 5, 7).
PHOTOGRAPHING OLD CARS
Charge your batteries and bring an extra memory card. The cars (and views) are gorgeous.
All the photos in this article we took with a digital SLR and no flash. Using your flash will cause harsh contrast and glare from the light.
Instead, select the highest ISO speed for your camera from the menu. Also, select the flash options and turn it off. There is enough light in most of the galleries for good photos without flash.
There's a nice view of the cavernous main exhibit space from the upstairs mezzanine/cafe.
Look for interesting details. Grills, prismatic glass on headlamps, model numbers, reflective hupcaps.
If you're serious about this, read up. Here's one: Photographing an Indoor Car Show Like a Pro.
Beautiful automobile typography on a shiny yellow Lincoln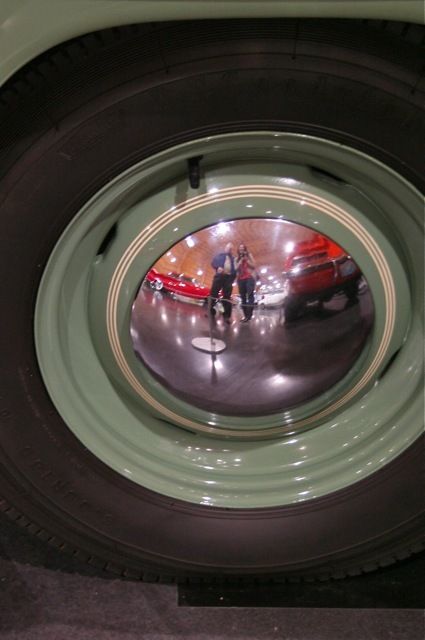 Sage/seafoam green car with a shiny hubcap nicely reflects my Dad and me
ENHANCING THE EXPERIENCE
While you're in the museum, if you can get a signal, more in-depth info is available on the museum's Featured Vehicles page. (Not all cars are shown, but some of the significant ones have great back stories. I enjoyed reading about them after the visit, actually.)
The docents are very knowledgeable. Stop and talk to them. They know the value of cars, who owned them, how the LeMays (or other owners) acquired them.
Apparently there are docent tours of the place. I couldn't find info on the website. Check at the admissions desk.
Want to get up-to-speed before your visit? Watch this short video trailer (from the longer film running in their theater): LeMay - America's Car Museum
MISCELLANEOUS TIPS
The Classics Cafe is great for a midway break. Take the elevator to the top floor and grab a cup of water, coffee, etc. to refresh yourself.
We ate lunch there. Sandwiches ($7-$10) were decent, but expensive. They don't come with chips or a drink, so you're paying a lot for a simple sandwich. (It is, however, very convenient to eat and take a break there to fuel your visit to the lower galleries. I think the caterer will offer more choices once they settle in.)
There's a movie running in a small theater below the main floor. It's only 17 minutes, so if you hang around that gallery for a few minutes, you can catch it from the start. Well worth watching…informative.
FOR OUT-OF-TOWN VISITORS
If you're a car fanatic, you may as well make the drive thirty minutes south to the original location of the LeMay collection. The LeMay Family Collection broadens the scope with 1500 more cars (about 450 on display at a time) plus American vintage memorabilia, unusual work vehicles and farm equipment.
Otherwise, I recommend a stop to the Museum of Glass (giant silver cone down by the waterfront). The hot shop is an unforgettable live glass blowing experience, and the galleries always have some interesting glass on display.


______
Rare and extremely valuable 1930 Duesenberg Model J

There you go! The LeMay — America's Car Museum is of the best museums I've visited in years. I highly recommend it. It's going to be one of our favorites to share with out-of-town visitors and for return trips to see new exhibits. Like other significant American museum collections, it's one of those places that takes multiple visits to really enjoy the full experience. If you live in the area, consider getting a membership and supporting a great local institution.