Authentic Korean Bulgogi Recipe
The secret is out.

Whether you arrived here from Facebook, the News Tribune, Twitter or Google: here is the actual, authentic bulgogi recipe as my Mom taught me—with real measurements.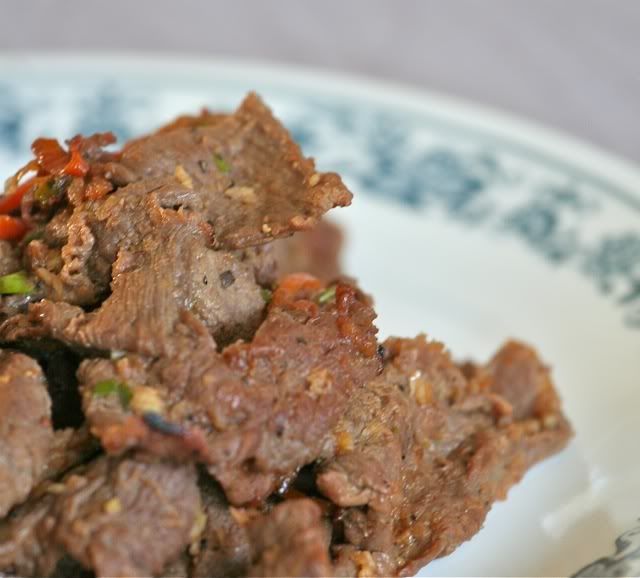 This is a pretty easy. Prep work could be done in 15-20 minutes if you use a food processor.
Bulgogi (Korean Grilled Beef)
(Prep time: 30 min. Marinade time: 30-minutes to 2 hours, best overnight. Cook time: 15 min. Servings: 1 pound of beef serves about 4. Recipe can be doubled, tripled or quadrupled, etc. MS Word Printable Version Text-Only Printable Version  )

1 pound bulgogi beef
1/3 cup Kikkoman soy sauce
1/4 cup Coca-Cola
2 tablespoons brown sugar
3 tablespoons sesame oil
3 large cloves garlic, crushed (1 ½ tablespoons)
3 green onions, chopped fine (about 3 tablespoons packed well)
1/2 teaspoon black pepper
1/2 apple or 1/2 small Asian pear, pureed
1/4 large onion or 1/2 small onion, pureed

Optional
1/4 onion, sliced into thin strips
1/2 carrot, chopped into matchsticks
1. Purchase your bulgogi meat.
Look for rib eye, sirloin or other tender cut, sliced very thin, 2-3 mm. Generally butchers freeze the beef, then slice it. It's slightly thicker than sandwich roast beef. If it's not in the meat cases, ask the butcher.
You can also do this at home by freezing rib eye and slicing very carefully across the grain. I've never sliced the beef myself—every Asian store sells bulgogi.
Look for packages with a small amount of fat.
Trim off any gristle or fat, using a sharp knife or scissors.
Example of excellent quality bulgogi.There's a tiny bit of fat, but I've spent a few minutes trimming off most of it. A good cut of meat has very little fat or gristle. A good Korean cook takes time to remove the chewy, difficult sections.
2. Puree the main seasonings.
Use a food processor to grind up the soy sauce, garlic, ¼ onion, green onion (pre-chop into smaller sections) and Asian pear/apple. Blend until marinade is similar to applesauce.
Some traditional Korean cooks do all the seasoning slicing and mashing by hand. I use the food processor for everything except the carrots and sliced onions.
Otherwise, old school: chop green onions fine, mash garlic with mortar & pestle, grate onion and pear with food grater. Example of ingredients using hand chopped method

3. Add in some color.
Chop carrots into matchsticks and 1/4 onion into thin slices. (Some recipes also call for green onions cut into matchsticks.)
If I'm in a hurry, I skip this step. The carrots and onion slices are not essential to the recipe. Many Korean cooks don't even include them as part of the recipe.

4. Combine all the ingredients except beef in a large bowl.
At this point, I put on food service gloves because it involves handling meat. But my Mom just used her hands.

5. Marinate the beef.
Pull off the top slice of beef, cover with marinade and drop into bowl. Continue separating slices and dousing them with marinade.
Eventually you have a bowl of beef and marinade evenly distributed.
Massage or stir this for a few minutes to make sure every slice is coated with seasoning.
Example of how beef and marinade are well-mixed (but handled gently). This is 3-pounds of bulgogi (enough for 3 people in my family, plus two days of leftovers for my son, and 2 to-go plates for my neighbors who had to smell the delicious beef cooking on the grill):
:

6. Let marinated beef rest overnight in the fridge, or at least 30 minutes before cooking.
The longer it marinates, the more tender the beef (due to the action of the pear and the Coca-Cola).
You can also put the beef (or half of it) in a Ziplock bag and freeze it. Just defrost and use within 3 months or so.

7. There are three ways to cook bulgogi:
Best way: Line a BBQ grill with foil, or use a griddle. Koreans have tabletop propane burners with channeled grills so juices drip away. The regular BBQ grill has to have tin foil or a griddle so small pieces of meat aren't lost. I use a knife to pierce many slashes in the foil so juice can drain and smoke can flavor the beef. Heat grill to medium high (about 400 degrees). Lightly grease foil, then quickly lay beef on foil. Discard marinade. Turn beef frequently, cook until nicely browned, about 7-10 minutes. (Don't overcook.) If the edges aren't browning, I sometimes turn it up to 500 degrees to finish it up.
Example below, note the crisp brown edges. Almost done! Also, the foil is containing the meat, but there are large knife slashes allowing smoke up and juices to drip off.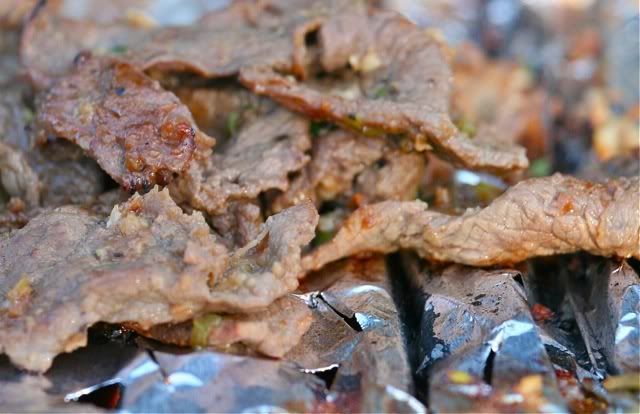 Second best way: Despite my disparagement in my newspaper article, bulgogi can be cooked in the house. Move oven rack to top level. Pre-heat your broiler to 500 degrees. Place beef on a greased cookie sheet. Discard marinade. Broil beef, careful to turn occasionally so meat does not burnt. Cook until edges are crispy, about 9-12 minutes.
Also works: Pre-heat a large sauté pan to medium-high. Grease pan lightly. Divide beef into three sections. Sear each portion for about 7 minutes, turning frequently. Meat is ready when edges are brown and pan juice has reduced considerably. This is my least favorite method because I feel the pan juice steams the meat too much.

8. Prepare beef for serving
Using scissors, slice up beef into bite-size pieces. Serve with hot sticky rice (white, brown or red bean/rice, but not long-grain, basmati, jasmine or Uncle Ben's…they won't be sticky). Have on hand washed leafy lettuce and ssamjang sauce (hot pepper sauce mixed with soybean paste).
My family's favorite way of eating bulgogi is in lettuce wraps, which we call ssambap. (That basically means "wrapped rice.")
If you're having a party, you have to have lots of lettuce ready. Here's six heads of leafy green and red lettuce, washed and drying out before the event: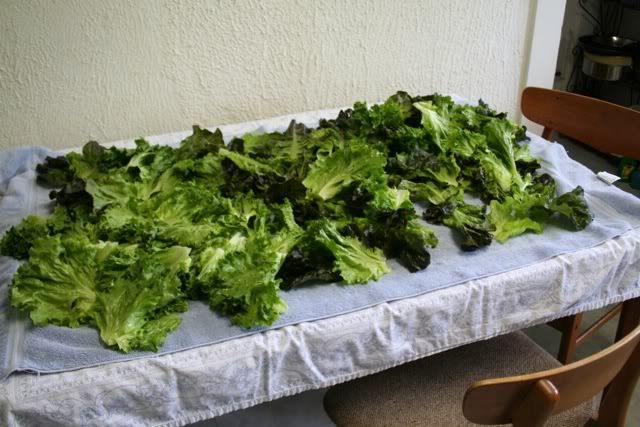 9. How to eat bulgogi
Hold the lettuce in your hand, add a dollop of rice, a piece of grilled beef, and a small dollop of ssamjan hot sauce. Fold lettuce over into a tiny burrito or hand taco. Eat and enjoy!
Guests enjoying lettuce wraps: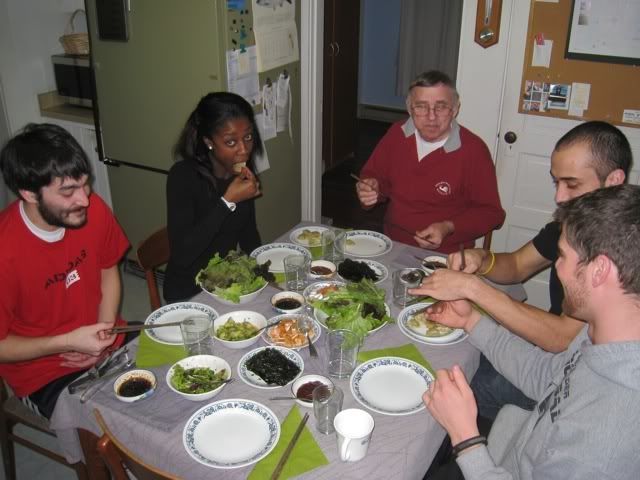 10. Don't forget your side dishes.
Traditionally bulgogi is also served with several bancheon dishes (small savory plates of prepared vegetables).
There are lots of great recipes on the Internet if you want to make bancheon (bancheon, panchon or banchan, same word, different spellings)
In a hurry, or don't want to spend hours cooking (bancheon takes lots of chopping, marinating and steaming). You can buy high-quality marinated side dishes already prepared at most local Korean grocery stores.
Some of my favorites are

myeolchi bokkeum

seasoned whole tiny anchovies,

kongjaban

stewed black beans, kungnamul marinated soy beans, cucumber oi kimchi, and steamed, marinated spinach seegumchee namul.
You can also keep it simple (and low salt) by having sliced cucumbers, steamed broccoli, Asian coleslaw and some store-bought kimchi (fermented cabbage).
For traditional lunch or dinner, we also usually have a gochujang (Korean miso) or a homestyle kungnamul (soybean sprout) soup along with the meat, rice and vegetable dishes.
Examples of bancheon: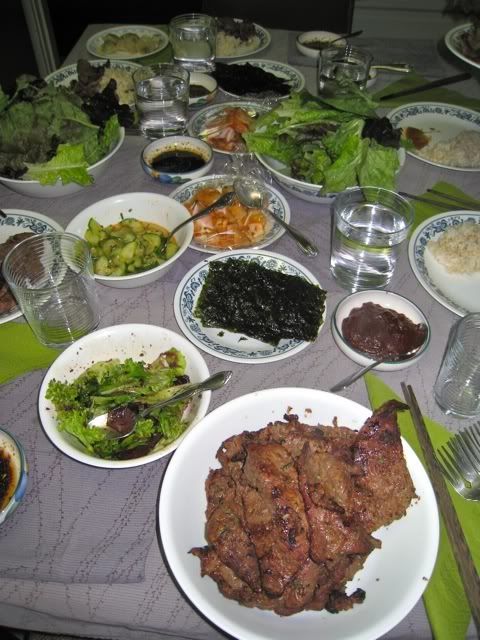 11. Post-meal hospitality.
After dinner, it's time to sip green or jasmine tea, peel fruit and lounge around telling stories about childhood, memories, hard times, etc. Maybe someone sings a song, or a child plays a piece on the piano. When the evening is over, in traditional Korean society, we often wrap up leftovers and send home bulgogi and other goodies to go with guests. That's why we almost never make 1 or 2 pounds of bulgogi.
I've seen my Mom with an enormous stainless steel bowl making 50 pounds of bulgogi for a birthday party or special event! There was enough for everyone to eat, and plenty for to-go boxes for everyone.
Blessing others with food and hospitality is a big part of our culture.
Photo of my Texas neighbor learning how to use chopsticks. I love to introduce people to Korean cooking, and give beginner chopstick lessons! Small-town Southern culture is a lot like ours…exchange of food, sharing recipes, feeding your neighbors!
Hope you enjoyed this recipe!
If you have any questions or need clarification (or a good local restaurant recommendation), please leave me a comment below and I'll try to help you out!
Footnote:
Like most Korean ladies, my Mom didn't measure anything. I was her undercook for twenty years, but this was mostly peeling garlic, pouring soy sauce and chopping onions. I'm not sure when I would have graduated to head chef, but life took a sudden turn.

When my Mom died in 2007, I was worried I had lost all our recipes. But it's amazing how much you retain in the kitchen. I've been on a mission to re-learn all her recipes. Thankfully, in my role as pot-scrubber, I picked up a lot and remember so much. I've recreated other favorites using proportions from my memories plus online Korean recipes plus the advice of my Imos (aunties).

I've been making her bulgogi recipe myself for about five years now. At first, I did it the way she did, without measurements.  It was nerve-wracking. Handfuls, pinches, palmfuls and dashes are not accurate measures. For the recipe below, I measured every single item and wrote down the exact quantities for you. That way you won't have to be like me, staring at a bowl of marinade at 10 pm wondering if there is enough garlic or soy sauce.
There are variations in bulgogi recipes. My Mom didn't use mirin (rice wine), carrots or ginger. Most traditional bulgogi recipes don't. However, some of these additions are pretty good. I sometimes add 3 tablespoons ginger, a tablespoon of beef stock and/or some fish sauce. This is the basic recipe—you can adapt it with hot peppers, or less garlic. (Coca-Cola, of course, is a modern addition. I chose to keep this ingredient of my Mom's because it does help tenderize the beef.)
YOU MIGHT ALSO ENJOY
The Young Others — Misunderstandings multiply when you're of mixed race. Don't worry, there's a club for you Korean-Lithuanians, African-American Filipinos, Hawaiian-Puerto Rican-Thai folks.
Saving and Letting Go — My Mom was a compulsive saver. But there comes a time in life when we have to let go.



2 Notes/ Hide
lillytuft likes this
fickletruths reblogged this from mariachong
mariachong posted this