For National Poetry Month, I wrote an article for our local paper which was published today. Along with sharing my fondness for poetry, I urged readers to give poetry a second chance. Many of you last read a poem in 5th grade! Your view of poetry might be, it's a bunch of nonsense about daffodils, fair maidens and walking in the woods. Well, poetry is interested in everything. Growing up as a mixed-race child. The war in Iraq. Love. Artichokes.
Maybe you're astonished to learn people still read—and write—poetry. The average American, like Edgar Allen Poe's raven, might be quoted on the subject of poetry: "Nevermore!"

C'mon people, give poetry a chance! Join the housewives, blue collar workers and pop stars who write, and appreciate poetry.
So consider this poetry bootcamp. I'm going to introduce you to a five simple, easy-to-understand poems that will get you off your miserable, potato-chip-eating, entertainment-bubble metaphorical couch, and into the world of imagination and mystery. There will be no yelling or standing in squadron formations, but you will have to make some effort to leave behind the civilian world and enter the world of poetry.
I read this poem at the National Poetry Month event "Gods, Goddesses, Myths" hosted by Tacoma poet laureate Josie Emmons Turner at Tacoma Community College on April 19.
Myths are not just about warriors, Greek deities, talking tigers. Some of the greatest myth-making we do is about ourselves.
This poem is the result of me trying to understand myself. Trying to make sense of my Korean-Lithuanian heritage, trying to honor all people who are bi-racial, or feel like they live in two worlds. The Other. Exiles. Hapa. Mixed-race kids.
Second, it's the direct result of my fascination for the Columbia Bar, a real place where the mighty Columbia River meets the Pacific Ocean. Also known as the Graveyard of Ships. One of the most dangerous stretches of water on the planet.
_________
I AM THE COLUMBIA BAR


I am the Columbia Bar,
the tumult where river hits
ocean. Site of sandbanks,
shipwrecks, sunken lives,
cross currents. See
the warning signs:
Danger. Carry flares.
Know not even the largest
vessel may survive
ebb tide's force.

I am the Columbia Bar.
Here wind chops waves
into violent slaps. Hidden
sandbars impede. Eight-foot
swells toss boats like toys.
Add to this millions
of gallons of rain daily
punching the Pacific.
A million gallons a second
of a thousand miles of river
pummel the ocean
at my intersection.

I am the Columbia Bar,
a silver necklace attached
to the turquoise deep.
Here fish swim in salt,
or leave krill behind
and find their way back
to gravel in conifer shade.
Here is transition, uncertain
angles. Here waves
are cut in two, come at you
in both directions.

I am the Columbia Bar.
I love the waters that spawned me,
my double worlds of immersion,
torsion. I am both brine
and ice melt river.
Swell me, mark me,
swamp me: my life is
a thumbprint of silt
and agitation.

Find me between the jetty
pilings and rock lines.
I am every half world,
every slur, all of purity's
scorn, every mixed-up kid
with no expert pilot.
I am the yellow Coast Guard
craft, tossed by turmoil.
Unswampable.

I am the Columbia Bar.
I swallow ships.
I am the hydraulics of opposites.
I could never be a lake.




This is a lovely, evocative, startling essay on the life of Afghanistan's Kyrgyz nomads, who live in one of the most high altitude, arid, hostile environments in the world. There's so much rich detail in Michael Finkel's writing.
But for now, with no car and no road, the reality is a yak. The khan is holding one by a rope strung through its nose. Other yaks are standing by. It's moving day; everything the khan owns needs to be tied to the back of a yak. This includes a dozen teapots, a cast-iron stove, a car battery, two solar panels, a yurt, and 43 blankets. His younger brother and a few others are helping. The yaks buck and kick and snort; loading them is as much wrestling as packing.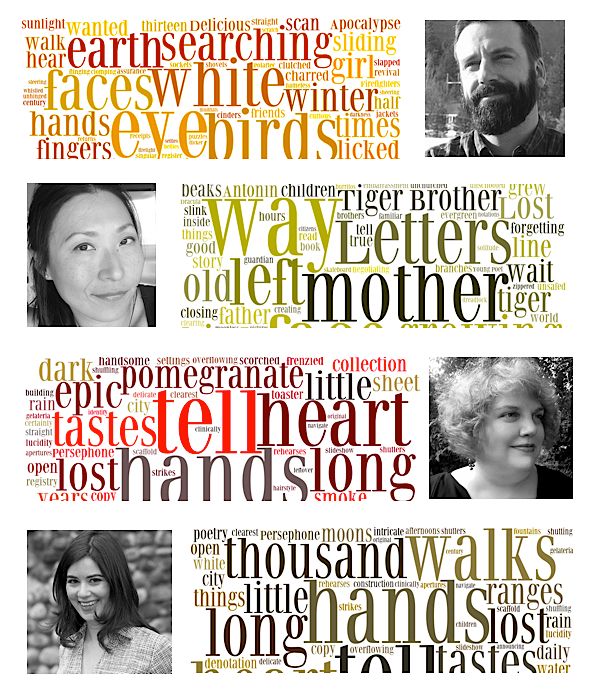 Poster graphic I created for a National Poetry Month event in Tacoma.
PROCESS OF CREATING THE ART FOR THIS POSTER
I love performance art, computer-generated art, found art…all kinds of creativity that either sets up constraints, or breaks down traditional forms.
This poster uses computer-generated word/tag clouds.
What a beautiful book cover!
T. C. Boyle, whose papers are housed at the Ransom Center, will give a reading Thursday night at 7:30 p.m. in Avaya Auditorum in an event organized by the Michener Center for Writers. 

See how you can enter to win a signed copy of "The Tortilla Curtain" by Boyle.
Really sweet song—the first space-to-earth collaboration—featuring astronaut Chris Hadfield, the band Barenaked Ladies and the youth choir Wexford Gleeks. The song is I.S.S. (Is Somebody Singing).
This is the result of entering one of my favorite poems, T.S. Eliot's "The Four Quartets," into Tagxedo (a free, online word cloud generator).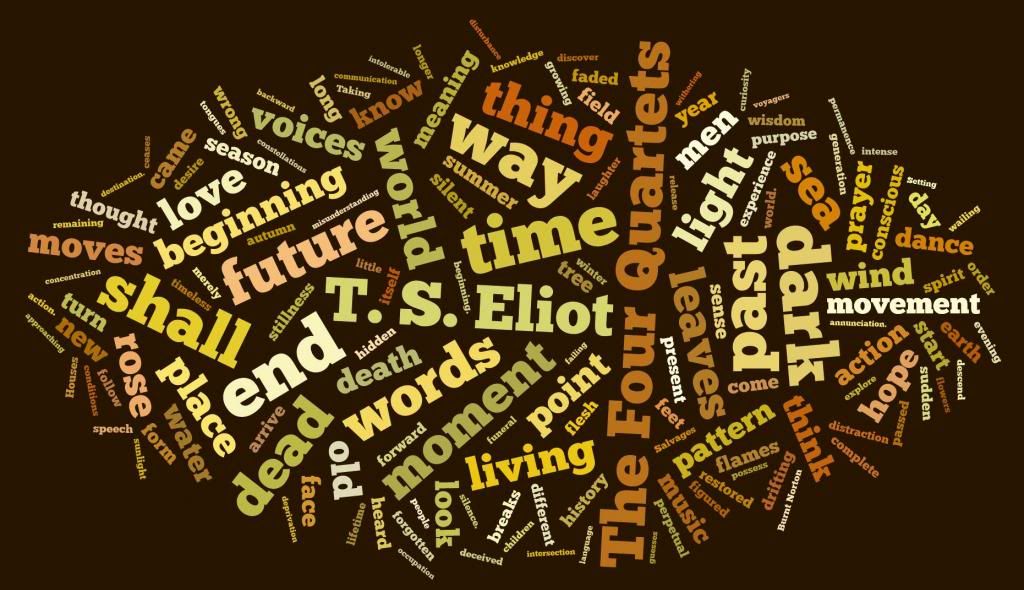 WHAT ARE TAG CLOUDS?
Tag clouds (or word clouds) are computer-generated, visual representations of data. Simply put, a tag cloud generator is a program that counts how many times you use words in a block of text (or website). It then generates a "tag cloud" or "word cloud" of your most frequent words. There are controls, so you can list the top 100, top 50, top 10, etc. terms, or
Love this sinuous, kinetic art project! The beautiful & unsettling "A Million Times" by Stockholm-based studio HUMANS SINCE 1982.
Gorgeous stuff on their website also.
To be without some of the things you want is an indispensable part of happiness.